Protective Coatings Melbourne
We can provide a high level of expertise and know how in the protective coatings industry. We can consult and provide an onsite service to the construction, industrial and commercial industries. Our services include onsite coating of primers, intermediate and topcoats and we service all of Victoria including Melbourne, Hallam, Frankston, Dandenong, Keysborough, Moorabbin, Chelsea and Pakenham.
We also provide waterproofing services using bitumen torch on applied systems, roll on and spray applications and chemical resistant coatings for mining & processing plants. Surface preparation includes power tool cleaning and abrasive blasting.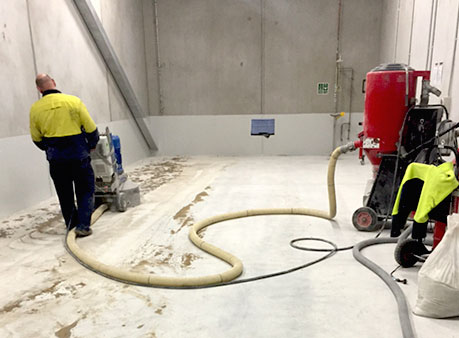 What's Involved
Surface preparation is the most important step in the protective coating installation process and it is critical to long term performance of the total system.
We evaluate the existing surface to determine what you are working with. The surface must be structurally bound, clean and must not be contaminated with any foreign material.
Is the surface distressed in any way? Does it have cracks, spalls or unevenness? Does the coating system require a level floor or one that slopes to drain.

The material selection process involves how the coating project is going to look aesthetically, how is it to be applied and what is the time frame.
What Are The Benefits
One of the most durable concrete floor finishes is epoxy floor coating. Not only will it protect your concrete floor, it can instantly transform it from an ugly cement floor into a floor of beauty and function.
One of the major benefits of having an epoxy floor, is that is very easy to clean and it does not pick up dust.
Epoxy Floor Coatings help add value to your home or commercial property by ensuring a better looking and more durable floor.